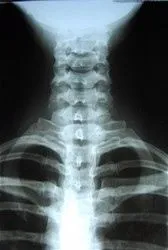 Digital X-Rays
X-rays are often taken on most patients to give the doctor an inside look at what is going on with the bone structure of the entire spine and surrounding skeletal structure. From this x-ray, the doctor can tell your current spine angles as well as any potential further issues including the potential for additional information such as an MRI.
If film-based x-rays are comparable to film-based photographs, digital x-rays are comparable to digital photography. Digital x-rays use a specialized image sensor to capture x-rays, and display them on a digital device for analysis.
Many doctors are switching to digital x-rays, because they offer a variety of benefits compared to traditional x-rays. First, digital x-rays can be viewed almost instantly, whereas film-based x-rays require 5-10 minutes for photo development. This saves you time in the waiting room!
Digital x-rays also expose patients to less radiation. While this depends on the x-ray system used, most digital x-ray systems reduce radiation exposure by up to 90%. A typical digital x-ray exposes you to about 0.0005 mSv, which is about the same as the radiation output of an airport full-body scanner.
Finally, digital x-rays are easier to view and manipulate using digital screens. Filters can be applied and specific areas can be zoomed in on – allowing for easier diagnosis of common spinal problems.